Glossar Letter C
CA

CA

CA

An early ballpoint by Eversharp introduced in 1945. The pen operated by capillary action, hence the name.
Capillarita

Capillary action

Kapillarkräfte

Ability of ink to flow in the narrow spaces inside the pen. Can be affected by the overall condition of the pen and different types of inks.
Capillarita

Capillary filler

Kapillarfüller

Parker introduced this filling system in 1956 with the model 61. Rolled cellophane tissue was encased in a metal housing within the barrel. When the end of this housing was dipped in ink, the ink was absorbed through capillary action. The unit had no moving parts.
cappuccio

Cap

Kappe

The part of a pen that covers the nib/feed assembly. Early caps were friction fitted, and later threaded caps were introduced. Both are used on contemporary pens.
cappuccio a frizione

Slip cap

Slip cap

any cap that friction fits to the barrel rather than being threaded.
caricamento

fillingsystems

Füllsystem

caricamento a depressione

vacuumfillers

Vakuumfüller

Many pen makers developed their own variaton of the succesful Parker Vacumatic. All of their systems, with various technical solutions, do create a vacuum by pushing a rod into the barrel which then sucks the ink into the barrel.
caricamento automatico

Self-filler

Selbstfüller

A term that was used to describe any pen that had a filling system, rather than being eyedropper filled.
Another definition I found reads: A pen that holds its own ink supply and refills the nib automatically rather than having to dip it. This is usually considered a criterion for a pen to be a "fountain pen." Waterman and several other companies designated pens as "self-fillers."
Carta assorbente

Blotter

Löschpapier

Porous paper used to absorb ("blot") excess ink after writing. Many blotters were printed with advertising and these are now quite collectible.
Caseina = galalite

Casein = Galalite

Kasein = Galalith

A material used in some early pens prior to the development of plastic. Casein is derived from milk protein and could therefore be made in pastel colors. Parker produced casein pens as early as 1914, and these may have been the first pens in colors other than black and red. But the pens discolored quickly and were not very reliable. Casein is hygroscopic (absorbs moisture) and thus tends to deform if immersed in water for longer period of time.
Cellulloide

Celluloid

Zelluloid

One of the first synthetic plastics pens made from a celluloid variation called Radite by Sheaffer in 1924 and Permanite by Parker in 1926. But although it is beautiful and created many stunning color and pattern variations, celluloid is a very flammable material and these early pens should be protected from flame. Celluloid also tends to discolor (amber) due to the interactions of the chemicals with rubber and ink. Badly cured celluloid (before the production of pens) tends to shrink. In general to be worked on the lathe, but can also be worked as a thermoplast.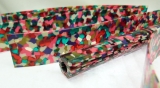 CF

CF

CF

A cartridge filling pen by the French JIF Waterman in the 1930s. It was initially made with glass cartridges and then successfully relaunched in the 1950s with plastic cartridges.
Challenger

Challenger

Challenger

A line of button-fillers made by Parker in the 1930s. Made in two different sizes with several different clips and in a variety of colors, Challengers are often thought of as an economy line. The Deluxe Challenger added some trim, but the Royal Challenger, which came in three colors with a herringbone pattern, was arguably one of Parker's best-looking pens of the period. Early Royal Challengers have a unique sword clip while later models had a stepped clip.
Chevron

Chevron

Chevron

One of many chasing patterns. In the form of multiple "Vs," chevron chasing was found on many BCHR pens.
Clipless

Clipless

Clipless

This does not mean that the clip is missing, rather it indicates that the pen was designed to be used without (and would never have) a clip. Contemporary examples would be the TWSBI Micarta or the urushi Nakayas.
Coin filler

Coin filler

Coin filler

One of many variations on the mechanism used to depress an internal pressure bar against a rubber sac for filling. Coin fillers had a slot in the barrel through which a coin was inserted and pressed.
Combinazione

Combination

Kombo ?

A fountain pen and pencil combined in one instrument. These were very popular through the 1930s and many second-tier companies marketed them as economical since they provided two writing options in one. Combinations by Parker, Waterman, and Eversharp are rare, while Sheaffer produced many.
Command Performance

Command Performance

Command Performance

The solid 14k gold Skyline model produced by Eversharp in the mid-1940s. It was originally called the "Gift of a Lifetime."
Commando

Commando

Commando

A plastic pen from Waterman in the mid-1940s. The Commando was a lower-priced alternative to the higher-end Hundred Year pens and Emblems of the period.
Condizione: NOS, New Old Stock

Condition: New Old Stock (NOS)

Zustand: NOS, New Old Stock

Indicates that a pen was stored for a period of time but never sold or used. May have some shop or storage damage (fading, unusable sac) but can be a source of remarkably good vintage product.
Condizioni:

Condition - FAIR

Zustand: FAIR
Penna usata con evidenti segni d'uso, ci possono essere graffi o piccole crepe e le parti non sono tutte originali.
Condizioni:

Condition - POOR

Zustand POOR
Buono solo per l'utilizzo delle parti...
Condizioni: Buone

Condition - GOOD

Zustand - GOOD
Penna usata con chiari segni d'uso ma non si trovano gravi danni come crepe o parti mancanti.
Condizioni: Eccellente

Condition - EXCELLENT

Zustand: EXCELLENT
Penna usata ma in buone condizioni, nonsi trova nessun danno serio come crepe. Funzionante
Condizioni:Nuova

Condition - MINT

Zustand - MINT
Come nuova, mai usata e con nessun difetto
controcapuccio

Inner cap

Innenkappe

An insert at the top of a cap into which the nib fits snugly when the pen is closed to prevent ink from leaking. Inner caps also hold clip assemplies in place and usually must be removed to remove the clip. This is done with a special tool known as an inner cap puller. The inner cap serves 2 purposes. It keeps the nib from being crushed against the inside of the cap by stopping the barrel from turning in too far. It also is supposed to stop ink leakage by creating a sealed pocket against the pen section. Many caps are discolored where the section and inner cap meet because this seal didn't work properly.
Converter

Converter

Konverter

A piston filling device used in place of a cartridge so that the pen can also be filled with bottled ink.
Coronet

Coronet

Coronet

A mid-1930s Art Deco-style pen from Wahl-Eversharp. Coronets were made in all metal models as well as several plastic colored barrels with gold-filled or silver caps. Celluloid inserts at the top of the cap came in red (Dubonnet) or black.
Crescent filler

Crescent filler

Crescent-filler

A filling mechanism that involved a semi-circular or "crescent" shaped metal bar that protruded from the side of the pen barrel. When depressed and released it causes suction in the bladder. Mostly associated with early Conklin pens, but also modified and used by Evans and Wirt.
Crest

Crest

Crest

Introduced by Sheaffer in 1939, the Crest began the use and later popularity of metal caps. It was a high-end pen, and the name has been re-introduced on a line of contemporary Sheaffer pens.
cristallizazzione

Crystallization (aka crazing)

Kristallisation
Deterioramento delle parti in plastica della penna. La cristallizzazione è più comune nelle estremitá trslucide della penna come nella Waterman Hundred Year e su alcune Dorics Wahl- Eversharp.