Glossar Letter C
CA

CA

CA
An early ballpoint by Eversharp introduced in 1945. The pen operated by capillary action, hence the name.
Cap

Kappe

cappuccio
The part of a pen that covers the nib/feed assembly. Early caps were friction fitted, and later threaded caps were introduced. Both are used on contemporary pens.
Cap band

Kappenring

Anello del cappuccio
Pen trim, usually gold or gold-filled, consisting of one or more bands near the lip (end) of the cap. The bands both decorate and protect from cracks. Some wide bands were used for personalized engraving.
cap bands

Kappenringe

verette >anelli del cappuccio

Cap top

Kappenkopf

Testina
The part of the pen, sometimes removable, found above the clip. It can be used to hold the clip in place and on some pens functions as an inner cap.
Capillary action

Kapillarkräfte

Capillarita
Ability of ink to flow in the narrow spaces inside the pen. Can be affected by the overall condition of the pen and different types of inks.
Capillary filler

Kapillarfüller

Capillarita
Parker introduced this filling system in 1956 with the model 61. Rolled cellophane tissue was encased in a metal housing within the barrel. When the end of this housing was dipped in ink, the ink was absorbed through capillary action. The unit had no moving parts.
Cartridge filler

Patronenfüller

Penna a cartuccia
While there were some very early ink cartridge systems, generally the cartridge filler is considered a late fountain pen development in reaction the quick and easy refilling methods of the new ballpoints. It is standard in many contemporary pens, often found together with a more traditional piston converter insert.
Casein = Galalite

Kasein = Galalith

Caseina = galalite
A material used in some early pens prior to the development of plastic. Casein is derived from milk protein and could therefore be made in pastel colors. Parker produced casein pens as early as 1914, and these may have been the first pens in colors other than black and red. But the pens discolored quickly and were not very reliable. Casein is hygroscopic (absorbs moisture) and thus tends to deform if immersed in water for longer period of time.
Celluloid

Zelluloid

Cellulloide
One of the first synthetic plastics pens made from a celluloid variation called Radite by Sheaffer in 1924 and Permanite by Parker in 1926. But although it is beautiful and created many stunning color and pattern variations, celluloid is a very flammable material and these early pens should be protected from flame. Celluloid also tends to discolor (amber) due to the interactions of the chemicals with rubber and ink. Badly cured celluloid (before the production of pens) tends to shrink. In general to be worked on the lathe, but can also be worked as a thermoplast.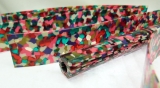 Cellulose Acetate (or simply Acetate)

Celluloseacetat

acetato di cellulosa
A "natural" plastic made from plants and now used in textiles. In pen production, it turned out to be an unsuccessful substitute for celluloid. It can be made in nice colors, but it is not stable material for writing instruments. 
CF

CF

CF
A cartridge filling pen by the French JIF Waterman in the 1930s. It was initially made with glass cartridges and then successfully relaunched in the 1950s with plastic cartridges.
Challenger

Challenger

Challenger
A line of button-fillers made by Parker in the 1930s. Made in two different sizes with several different clips and in a variety of colors, Challengers are often thought of as an economy line. The Deluxe Challenger added some trim, but the Royal Challenger, which came in three colors with a herringbone pattern, was arguably one of Parker's best-looking pens of the period. Early Royal Challengers have a unique sword clip while later models had a stepped clip.
Chasing

Maschinengravur

Godronatura
The machined engravings on hard rubber and metal pens. Before colorful plastic pens emerged, chasing was one way to add some decorative flair to pens. Many different patterns of chasing were used.
Chevron

Chevron

Chevron
One of many chasing patterns. In the form of multiple "Vs," chevron chasing was found on many BCHR pens.
Clip

Klip

Fermaglio
A metal clasp attached to a pen cap to keep it firmly in place in a pocket or pen case. They often carry some part of the company logo.
Clipless

Clipless

Clipless
This does not mean that the clip is missing, rather it indicates that the pen was designed to be used without (and would never have) a clip. Contemporary examples would be the TWSBI Micarta or the urushi Nakayas.
Coin filler

Coin filler

Coin filler
One of many variations on the mechanism used to depress an internal pressure bar against a rubber sac for filling. Coin fillers had a slot in the barrel through which a coin was inserted and pressed.
Combination

Kombo ?

Combinazione
A fountain pen and pencil combined in one instrument. These were very popular through the 1930s and many second-tier companies marketed them as economical since they provided two writing options in one. Combinations by Parker, Waterman, and Eversharp are rare, while Sheaffer produced many.
Command Performance

Command Performance

Command Performance
The solid 14k gold Skyline model produced by Eversharp in the mid-1940s. It was originally called the "Gift of a Lifetime."
Commando

Commando

Commando
A plastic pen from Waterman in the mid-1940s. The Commando was a lower-priced alternative to the higher-end Hundred Year pens and Emblems of the period.
Condition - EXCELLENT

Zustand: EXCELLENT

Condizioni: Eccellente
Used pen, but in very good working condition, no serious damages like cracks or crazing. 
Condition - FAIR

Zustand: FAIR

Condizioni:
Used pen with clear signs of use, damages like cracks and scratches possible, parts may not all be original. 
Condition - GOOD

Zustand - GOOD

Condizioni: Buone
Used pen, clear signs of use, but no severe damages like cracks or missing parts.
Condition - MINT

Zustand - MINT

Condizioni:Nuova
Like new, never used or inked, no defect at all.
Condition - NEAR MINT

Zustand NEAR MINT

Quasi nuova
Like new, but may been inked and show minimal signs of use or storage. Of course no brassing, cracks or other damages. 
Condition - POOR

Zustand POOR

Condizioni:
Good for parts only...or to practice repairing 
Condition: New Old Stock (NOS)

Zustand: NOS, New Old Stock

Condizione: NOS, New Old Stock
Indicates that a pen was stored for a period of time but never sold or used. May have some shop or storage damage (fading, unusable sac) but can be a source of remarkably good vintage product.
Converter

Konverter

Converter
A piston filling device used in place of a cartridge so that the pen can also be filled with bottled ink.
Coronet

Coronet

Coronet
A mid-1930s Art Deco-style pen from Wahl-Eversharp. Coronets were made in all metal models as well as several plastic colored barrels with gold-filled or silver caps. Celluloid inserts at the top of the cap came in red (Dubonnet) or black.
Cracks

Risse in Kappe oder Schaft

Fessure, crepe
Most pen cracks are found around cap lips and come from caps being posted (placed on barrel end) too firmly. They are especially common in red hard rubber which becomes quite brittle with age. However, cracks can occur in other locations on a pen as well as in metal parts including nibs.
Crescent filler

Crescent-filler

Crescent filler
A filling mechanism that involved a semi-circular or "crescent" shaped metal bar that protruded from the side of the pen barrel. When depressed and released it causes suction in the bladder. Mostly associated with early Conklin pens, but also modified and used by Evans and Wirt.
Crest

Crest

Crest
Introduced by Sheaffer in 1939, the Crest began the use and later popularity of metal caps. It was a high-end pen, and the name has been re-introduced on a line of contemporary Sheaffer pens.
Crystallization (aka crazing)

Kristallisation

cristallizazzione
Deterioration of plastic parts on pens. Crystallization is most common on the translucent ends of the Waterman Hundred Year pens, and on some Wahl-Eversharp Dorics.