Enquiry
Thank you for your interest in the article No. 02284
Please fill out the form below an press the Send button.

Hot Deal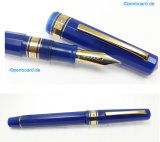 Omas EUROPA Prototype pen, with no imprints and no numbering, 18K nib, Broad tip Serial No. Not numbered prototype
Sale! 30% OFF = € 398
Pistonfiller blue natural resin Nibsize: 18 K twotone Broad tip Condition: near mint, never used but minimal signs of storage Year: 1992
Details

Montblanc The CHANCELLER no. 1 F red mottled ebonite leverfiller
SALE! 30% OFF = 680 €
lever filler, red and black hard rubber Nibsize: 14 K nib, no. 1 size, original nib Condition: excellent, restored cap lip, no engravings, very good imprints Year: 1930
Details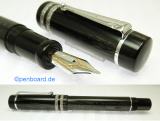 Delta Argento Grigio Buttonfiller - grey PL celluloid - 14 K stub nib Serial No. 00/23 pre series pen.
Sale! 30% OFF = € 420
Pushbuttonfiller grey PL celluloid Nibsize: 14 K twotone Stub nib Condition: mint, boxed, papers, Year: 2010
Details